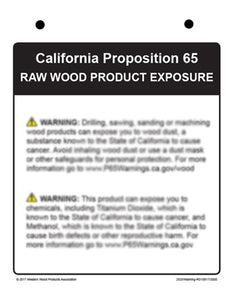 WWPA Store
Prop_65 Lumber/Wood Product Warning Sign for New Regulation Operative 8/30/2018
Regular price
$5.00
$0.00
MINIMUM ORDER OF FIVE!
8.5" x 11" .020 Mil Polystyrene Sign developed with the assistance of the California Attorney General's Office and the Office of Environmental Health Hazard Assessment to comply with the new Prop 65 warning sign requirements for lumber/wood products operative on August 30, 2018.
Manufacturer, producer, packager, importer, supplier, or distributor of lumber/wood products sold to California consumers must comply with the Prop_65 requirements or risk fines and litigation.
For more information about California Proposition 65 notification requirements, visit the WWPA website at http://www.wwpa.org/resources/california-prop-65-wood-dust
---
More from this collection